England's Tower of London is said to be one of the most famous haunted places in the world; not surprising given it's bloody history.  The Tower counts among it's prisoners Anne Boleyn, Henry the VIII's second wife, and Lady Jane Grey who was Queen of England for just over a week.
Both ladies were subsequently executed on the Tower's grounds.
England boasts many more haunted places from castles and churches to parks and cemeteries.  But haunted places aren't limited to England, or for that matter Europe.  Just about every continent, country, city, and town has at least a ghost story or two which is inevitably linked to a specific location.
America is no different, from coast to coast and from north to south our country has hundreds if not thousands of reportedly haunted places.   Some, like the Queen Mary in California, are world famous, others local legends famous only to the town's inhabitants and serious ghost hunters.
In the fall, specially closer to Halloween,  many of us like to experience a little thrill and go on a ghost tour or drive by places that look spooky.  There's definitely no lack of haunted places in each state. Here's a list of haunted places, one from each state, some famous, others not so.   Perhaps one or two of them will be close enough for you to visit this year.
The Sweetwater Mansion in Florence, Alabama has seen plenty of history.
Construction began in 1828, it was here that Union and Confederate officers stayed during their respective occupation of the city during the Civil War.  It is said that many of its former residents reside here still.  Children's laughter is said to be heard and  items that  mysteriously move.[spacer height="-20px"]
Scary Mary is said to have checked into the Golden North Hotel in Skagway, Alaska during the Gold Rush and has never checked out.
Filled with  hopes for a bright future she came to Alaska as the fiancee of prospector Klondike Ike. Mary locked herself in the couple's hotel room to await her beloved who went off in search of gold, he never returned.
When concerned hotelkeepers finally gained entrance to her room they found her dead, dressed in the wedding gown she was to wear on her wedding day.
Today  guests have been spooked by a pale ghostly figure looking out the window still awaiting her lover's return or by a figure standing over their bed checking to see who's in it.
There is no shortage of haunted places in the state of Arizona, but one of the most famous is the town of Jerome, a quaint community in northern Arizona.  All sorts of specters are said to haunt many of the town's historic buildings.  The most haunted is thought to be the vintage Jerome Grand Hotel.
It opened as the United Verde Hospital in 1927.  Miners from the nearby copper mine were treated here for serious injuries many of which proved fatal; insane people were also treated here for their mental illness.  The hospital closed in 1950 and re-opened as the hotel in the late 1990s.
Today ghost enthusiaists, including my cousin and his family, book rooms here hoping to catch a phantom nurse or hear a scream or two during their stay.  My cousin and his family have stayed here twice and have never had a paranormal experience, but the town has many nice shops and restaurants making it a nice place to spend the weekend.
I can't talk about Arizona ghost towns without mentioning the town of Tombstone.  During my last visit the lady at the fudge shop told me the whole town is filled with spirits.  She claimed their their presence could be felt as you wander the towns streets and buildings.  I'm not sure about the streets, but whenever we're in town we usually stop for drinks at the Crystal Palace Saloon, and I hate going to the restrooms located in the back of the building.  Walking down the hallway to the restrooms always gives me the creeps and the hairs on the back of my neck stand up.  Haunted or imagination?
I'm never quite sure.  We did the Bird Cage Theater ghost tour, it was fun, but we didn't really have a ghostly experience.
Driving along Arkansas 365 just south of Little Rock can turn into a paranormal experience.
Motorists driving this road on dark rainy nights have claimed to have encountered a young girl on the roadside.  They give her a lift, she tells them where she must go, but when they get to the destination the girl has vanished.
I think just about every town has a similar story, here in Hawaii it's said that Madame Pele, the volcano goddess, has been seen asking for rides along many of our roads.[spacer height="-20px"]
California has many haunted places including Alcatraz in San Francisco and the Hotel del Coronado in San Diego, but I would never had thought of Disneyland as a haunted place.
It is said that the "Happiest Place on Earth" is truly haunted.  The Space Mountain Ride and the women's employee locker room is said to be haunted by a man who died on the ride in the 1970s and The Christmas Shop on Main Street, Tom Sawyer's Island, and Tomorrowland all house a spook or two.[spacer height="-20px"]
The Stanley Hotel in Estes Park, Colorado is hands down the most famous haunted hotel in the Rockies.  This sprawling luxury hotel that opened in 1909 is a favorite with dignitaries and ghost hunters.
This hotel inspired author Stephen King to write his bestselling book "The Shining". Today there are many stories of paranormal activity, particularly in room 217.
Union Cemetery in Easton, Connecticut is said to be the most haunted spot in the state and possibly the most haunted cemetery in the country.
The famed "White Lady" is said to wander this 400 year old cemetery.[spacer height="-20px"]
Fort Delaware sits on Pea Patch Island just off Delaware City.
Built in 1848 and decommissioned in 1943 this fort was never attacked.  It did house has many as 16,000 prisoners at one time.
Reached only by ferry today Fort Delaware is part of the Delaware Park System.  No one lives there anymore, just the ghosts of past inhabitants.
The park services offers ghost hunting tours on the island.  Click here for more info![spacer height="-20px"]
This particular bend of the St. John's River in Seminole County, Florida with a cluster of cypress trees, is known as Round Cypress Head.
Many have said they have witnessed paranormal activities in this dark dank area of cypress woods.  It is said that the woods is home to demons and/or witches.  Folks are warned to not venture there for fear of being eaten by these monsters.  Locals claim that fishermen have gone missing in this river and many claim the woods are most definitely haunted.[spacer height="-20px"]
The quaint southern city of Savannah is arguably the most haunted city in Georgia.
Known for its southern charm and hospitality along with its antebellum architecture many of it's historic buildings and spaces are said to host a specter or two.
Madison Square was the site of a Revolutionary Battle and British soldiers were buried there.  Shadowy figures are said to be lingering in the park.[spacer height="-20px"]
Steeped in legends and lore from ancient Hawaiian days to missionary days and beyond the 50th. State has its own host of haunted places.
Night Marchers are said to walk the land at night and Madame Pele the volcano goddess can be frightening or almost playful.
The islands are filled with many haunted places including schools, bridges, libraries, drive-in movie lots, and hotels.
The luxurious Hilton Hawaiian Village is said to be one such place. Folks have reportedly seen the Lady in Red wandering the halls or even the beach.  It's said she could have been a guest who tragically died at the hotel or Madame Pele herself.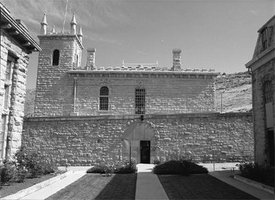 The Idaho State Penitentiary in Boise is supposedly the most haunted prison in the state.
Constructed in 1870 and added to over the years this prison has seen more than its fair share of violence.  It is said the hauntings began soon after the riots that started to erupt within the prison walls in 1935.[spacer height="-20px"]
The Nellie Dunton Home in Belvidere, Illinois is said to be haunted by this broken hearted woman who lived here before the Civil War.
Folks claim to see her in the house and around the neighborhood.[spacer height="-20px"]
French Lick Springs Hotel is a historic resort in the town of French Lick, Indiana.
Among the paranormal activities here it is said that its former owner lingers in the service elevator.[spacer height="-20px"]
Originally known as Iowa State College of Agriculture and Mechanic Arts when it was founded in 1858, Iowa State University (it was renamed in 1959) is known for its agriculture, engineering, and science programs.
It is also home to the ghost of Frederika Shattuck who was said to haunt the theater named after her for her contributions to the theater department.  Shattuck Theater was torn down hence this other worldly being has moved to the Fisher Theater on campus.
The Hutchinson Public Library in Hutchinson, Kansas is said to be haunted by its former librarian named Ida Day.
Locals say she wanders the building sometimes sorting or looking thru books.[spacer height="-20px"]
Over 63,000 people including patients, doctors, and nurses died there.  The death toll in this building is comparable to a battle field, it's no wonder it is said to be haunted.[spacer height="-20px"]
From haunted bayous to voodoo queens, Louisiana is host to many ghosts, and goblins, and other things that go bump in the night.
The historic city of New Orleans is home to the blues and filled with many quaint shops and restaurants, it's also steeped in mystery.  Walking down the streets of the French Quarter on a foggy night can be very creepy.  I know we were creeped out one dark and foggy February night as we walked down Decatur Street.
But did you know that it was in this state where the infamous duo Bonnie and Clyde met their end?
This lone stone in Gibsland, Louisiana marks the ambush site.  Legend has it that on nights when the moon is full you can still hear the gunfire.[spacer height="-20px"]
Ellis Pond, also known as Roxbury Pond in serene East Andover, Maine is said to be haunted.
Visitors walking along the shores have reported hearing or feeling a presence.[spacer height="-20px"]
There are hundreds of haunted places in the small state of Maryland, but the Antietam Battlefield is possibly the most haunted.
Over 23,000 souls lost their lives here making it the site of America's bloodiest single day battle.
It's no wonder those poor souls still wander the field and battle sounds can reportedly still be heard[spacer height="-20px"]
Site of one of the most infamous double ax murders in American History, the Lizzie Borden House in Falls River, Massachusetts is now a Bed and Breakfast.
I would be surprised if it wasn't haunted.  It is reported that guests have seen apparitions in the house.[spacer height="-20px"]
Famed pilot Amelia Earhart was a guest at The Landmark Inn, located in Marquette, Michigan before she mysteriously disappeared somewhere over the Pacific Ocean in 1937.
They say that she sometimes shows up in room 502.[spacer height="-20px"]
Staff and diners claim this St. Paul, Minnesota restaurant is haunted by the building's former owner and his mistress who committed suicide here in 1892.
Back then it was the home to Joseph Forepaugh, today it is Forepaugh's Restaurant.[spacer height="-20px"]
He supposedly robbed and murdered guests who stayed at his inn.  He was caught and hanged on this bridge.
It was the home of President Truman, and of course it is said to be haunted by the President himself.[spacer height="-20px"]
The scene of the historic battle known commonly as Custer's Last Stand the Little Bighorn Battlefield in Montana is home to many spirits.
Apparitions and Native American war cries have been reported here.[spacer height="-20px"]
Brother Sebastian's, a restaurant in Omaha, Nebraska is said to be haunted by Bill Walden, a regular patron who passed away but still frequents the joint.[spacer height="-20px"]
The Riviera is one of the oldest casinos on the Las Vegas strip in Nevada.
Many mob-related murders took place here and staff reports strange happenings in the hotel, specially on the 9th. floor.  [spacer height="-20px"]
Built in 1926 at Keene State College in Keene, New Hampshire this college dorm called Huntress Hall is said to be haunted by its namesake Harriet Hunter.[spacer height="-20px"]
One fateful evening, May 6, 1937, the airship Hindenburg caught fire and crashed killing 36people.
Today it is said that screams can still be heard at the crash site in Lakehurst, New Jersey.[spacer height="-20px"]
Chaco Canyon National Historic Park in New Mexico is an eerie place.
It's haunting beauty and great stone work is a testament to past ages.  Folks claim to have the eerie feeling of being followed while visiting this park.[spacer height="-20px"]
Built in 1884 the Dakota is one of the most sought out residences in New York City.
This landmark building built in gothic style architecture was where the horror movie "Rosemarie's Baby" was filmed.  But it's most known as the building where former Beatle John Lennon lived and was shot and killed on December 8, 1980.
It is said that the famous musician sometimes appears to the building's residents, although he is not this building's most famous ghost.  That honor belongs to the two children dressed in late 19th. century style  who have been seen since the 1960's.  It's not sure who the children are, but it is assumed that they were once residents of the building, more likely around the time it was constructed.
Built in 1924 Carolina Inn in Chapel Hill, North Carolina is said to be haunted by no fewer than 20 ghosts.
The most famous one is that of Dr. William Jacocks.  He lived in room 256.  He pulls pranks and locks guests out of his former room, even after it was renovated in 1990.  The room was partitioned to become part of 4 other rooms and electronic locks were installed to prevent such pranks.  No go, he still manages to jam the new locks.[spacer height="-20px"]
Apple Creek Country Club in Bismarck, North Dakota is reportedly haunted by a former chef.[spacer height="-20px"]
It's seen its share of tragedies and historic events of the town.  Folks claim that at times the building shakes as if a train is passing by.[spacer height="-20px"]
Guests at the Skirvin Hilton in Oklahoma City, Okalhoma claim to hear infant cries and female voices during their stay.
It is thought it's the ghost of  a former maid who killed herself and her illegitimate child by jumping out of one of the windows of the hotel.[spacer height="-20px"]
Built by Universal Studios in 1927 the Bagdad Theater in Portland, Oregon housed both vaudeville type shows and moving pictures, today it's a cinema and pub, it also is home to 2 haunts.[spacer height="-20px"]
Straight out of history books is Valley Forge.
Every American knows or should know about the hardships the Continental army suffered here during the Revolution.
Today it's a National  Historical Park in Pennsylvania.  Visitors claim to have seen men dressed in period army dress.[spacer height="-20px"]
Though Belcourt Castle in Newport, Rhode Island is not really haunted, some of the furnishings and decor is reportedly so.
The objects here have a haunted history including chairs and a suit of armor.[spacer height="-20px"]
Holley House or the Hotel Aiken in Aiken, South Carolina was built in 1878.
It is reportedly haunted specially on the second floor.[spacer height="-20px"]
The 1880 Train in Hill City, South Dakota was the first locomotive steam engine brought to the area.
Today the Highliner Eatery is located within the train.  Employees report seeing a spectral in a brown suit.[spacer height="-20px"]
The Ryman Auditorium in Nashville, Tennesee is more famously known as the Grand Ole Opry House  because it was the site for the show, was built in 1892.
It is reportedly haunted by none other than Hank Williams, Sr. whose voice has been heard within singing his songs.[spacer height="-20px"]
I'm sure just about everyone's heard of the Alamo located in San Antonio, Texas.
Many American folk heroes including James Bowie and Davy Crockett died here defending the Alamo against the forces of General Santa Ana during the Battle of the Alamo in 1836.  During that battle over 2000 lives were lost.  It's not a stretch to hear reports of restless spirits wandering here.[spacer height="-20px"]
Reports claim that the Mormon Militia massacred a group of settlers at this site in Central, Utah in 1857.  Today visitors to the Mountain Meadows Massacre Site report hearing screams in the wind.[spacer height="-20px"]
Legend has it that Glastenbury Mountain in Shaftsbury, Vermont is believed to be cursed by Native Americans, they used it as a burial ground.
There have been several unsolved disappearances on the hiking trails.  All the trails stop partway up the mountain as if forbidding hikers to continue.[spacer height="-20px"]
The beloved home of Thomas Jefferson, Monticello, located outside of Charlotteville, Virginia is said to be haunted by the famous former owner himself.[spacer height="-20px"]
This inn located in Tacoma, Washington is where Stephen King's movie "Red Rose" was shot.  It's called the Thornewood Castle Inn and guests and staff have reported seeing strange apparitions and lights.[spacer height="-20px"]
Many apparitions including a marching army have been reported here.
Built in the 1800s and rumored to have been owned by Al Capone the Maribel Hotel in Maribel, Wisconsin burned down in the 1920s.
It's rumored that it's haunted.[spacer height="-20px"]
Big Horn Medicine Wheel in Big Horn, Wyoming is said to be at least 12,000 years old.
It's not known who built it.  Legend has it that if you fast within the circle for 4 days ancient spirits will come to you.[spacer height="-20px"]
Although it's not a state this post wouldn't be complete without a haunted place in Washington D.C.
Our Nation's Capital is not lacking for haunted places, many of them famous, or more appropriately infamous.
At the top of the list would be Ford's Theater where President Abraham Lincoln was assassinated by John Wilkes Booth.  It is said his footsteps can still be heard echoing up the back stairs to the President's Box.[spacer height="-20px"]
I've taken you thru the states from A-W and the District of Columbia.  Each state has many more haunted places, let me know if  you've visited any of them!  Better yet contact me to book your haunted adventure at one of these spooky places!