Amman, Jordan's capital, is a bustling city with a mixture of ancient sites and modern buildings. Here you can wander thru the Neolithic and Bronze Age ruins of Jabal al'Qal'a (the Citadel), see some of the oldest statues in the world and gaze at the Dead Sea Scrolls in the newly opened and very modern Jordan Museum, and relax at a hookah lounge in the popular Shmeisani district all in one day.
Where ever you wander in the city good food is never far away.  Whether you're hungry for burgers, pasta, or traditional Arabic food you'll find it all in Amman.  The city and its environs are crowded with familiar fast food joints from the ever present McDonald's and Burger Kings to Applebee's and Chili's, you'll find it all there.
But when we're in Amman familiar franchise restaurants is never at the top of our dining choices, we take advantage of the wonderful Arabic specialties that abound through out the city.  From street food to fine Lebanese restaurants you'll find great food to satisfy your palate and fit your budget.  Here are some of my favorite Amman restaurants, I'm sure you'll find something to suit your appetite and your wallet.
Long time favorite Hashem's Restaurant counts the Jordanian Royal Family among its patrons. It's located in an alley off Al-Amir Mohammed Street in Amman's busy downtown.
You can't miss it, the restaurant literally takes up the entire alley, just look for white plastic chairs and tables usually filled with locals and tourists lining both sides of the alley.
Hashem's in known for their freshly made falafels.  You can see the the guy frying the spicy balls in front of the shop window, it's actually quite amazing how fast he makes them.
I remember my first visit, I was a bit put off when our waiter was doling out fresh falafel from a tin bucket with his bare hands.  I'd briefly wondered and hoped that his hands were clean.  One bite was all it took for me to forget about his hands, perhaps serving them with bare hands added to the taste, maybe.  At any rate along with falafels you can get plates of hummus, foul, pickles, and of course pita.
Hashem's is still one of my favorite lunch spots when I find myself in downtown Amman.  It gets no points for ambiance that's for sure, specially when you have to sit on plastic chairs in the alley on a very hot summer day, but the food makes this place worth a visit.  They're open quite late if you get a late night hankering for some falafel and hummus.  A meal here will set you back about 3 dinar per person, that's just a bit over $4.
Abu Jbara is my newest favorite.  Like Hashem's they specialize in falafel and hummus but in a more upscale setting.  They have several locations in Amman, I go to the one on Al-Madineh Al-Munawrah St.
Unlike Hashem's in downtown Amman Abu Jbara is an indoor air conditioned restaurant in a newer section of the city.  The place is open 24 hours and seems to do a bustling trade all the time.  You'll probably have to wait for a table, but they turn them over pretty fast so you won't be waiting long.
I love the falafels and foul at Abu Jbara, not to mention the never ending bread service.  A waiter will bring fresh hot pita bread to your table until you say stop.  The bread is made on site and served directly from the oven, delicious!  It's a prices are about double what Hashem's charges, about 6 dinar a person, $8.50, but the air conditioning is worth the extra cost on a hot summer day.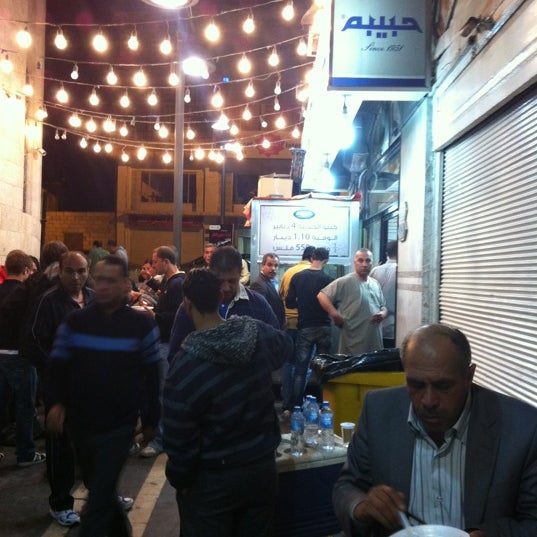 Another favorite is Habibah Sweets.  Among their specialties is my husband's favorite, Kunafa, a cheese filled pastry drenched in sweet syrup.
The original kiosk located in a side alley by the Arab Bank in downtown Amman is always busy in spite of the fact that they have no seating.
You grab your plate of fresh hot kunafa and eat it on the go.
They've come a long way since their humble beginning in 1951.  They have several branches around the city.  The newest one is on Al-Madineh Al-Munawrah St., a block away from Abu Jbara.  Very convenient for us, we grab lunch at Abu Jbara then walk on over to Habibah for dessert.
The new 2 story Habibah is a dessert lover's dream.  The first floor houses the bakery where you will find just about every type of pastries and candy you can imagine.  From a wide variety of Arabic sweets. cookies, chocolates, ice cream, and beautifully decorated cakes and molded marzipan, you'll find it in this bake shop.
If you prefer to sit down and enjoy your dessert with tea or coffee you can take the elevator up to the second floor tea room.  Here you can order just about everything they have in the bakery downstairs.
The menu has so many sweet offerings it's hard to choose just one, so we ordered a large variety,
all of it delectable.  It is rather pricey, expect to pay more for Habibah's desserts than lunch at Abu Jbara.  Whichever location you choose to visit, don't leave Jordan without having a plate of Kunafa from Habibah!
Reem Al Bawadi Restaurant in the Khalda district of Amman is our favorite sit down restaurant. The place is huge with indoor and outdoor seating.  The food and service are excellent.  From the moment you're seated you'll be treated like royalty.  Last time we were there I counted at least 3 waiters serving our table.
They offer a large selection of mezzes and great grilled meats.  My favorite is their Shish Tauok, marinated chicken kebobs.  They also serve good Mensaf, meat cooked in a yogurt type sauce and served over rice and thin bread.  After dinner you can enjoy a hookah with tea or coffee.
This is a definite must whenever we're in town.  It's pricey, expect to pay about 30 dinar per person, $42+, but it's so worth the price.
    This photo of Reem albawadi is courtesy of TripAdvisor
When I find myself at Mecca Mall during lunch time I head over to Lebnani Snack.  This local franchise is Jordan's version of McDonald's, Pizza Hut, and Jamba Juice combined in one colorful restaurant.
Lebnani Snack serves burgers, sandwiches, pizza, juices, and pastries made from fresh Halal ingredients.  They have many locations in the city.  It's a great place to grab a quick lunch or snack, and definitely indulge in one of their fresh fruit cocktails.  I love their Mango, Strawberry, Banana with milk cocktail, it goes great with a chicken shawarma sandwich!
Prices are reasonable, but expect to pay more for one of their pretty juice concoctions than you would for a sandwich.
I love to hang out at one of the outdoor bars in the Shmeisani area, they are great places to people watch.   There are many places to sit down and have a cup of coffee or a tall glass of freshly squeezed juices.
We usually pick one of the busier places and hang out for a couple of hours.
If you're not a smoker you can ask for a table away from the crowds.  Smoking seems to be allowed at any table, but the waiters are very good and will be happy to set up a table for you where you want.  The last time we were there they were ready to set up a table on the sidewalk so that we didn't have to navigate the crowded restaurant!
When in Amman don't be afraid to try the little hole in the wall snack shops you'll find on the streets.  They're clean and serve tasty food at very reasonable prices.
This little snack bar in the Shmeisani area serves everything from burgers and fries to mixed grill platters.  We had a feast of mixed kebobs (lamb, ground beef, and chicken) with salads, hummus, bread, pickles, fries, and drinks for less than 25 dinar, $35.  But don't let the small price tag fool you, the food was delicious!  The meats were tender and tasty, the bread fresh, and the fries hot!
I can't end this post without mentioning shawarma sandwiches.  I don't exactly go to a restaurant to eat this although I have to admit the chicken shawarma from the Kempinski Hotel's room service is outstanding.  Most of the time I grab a bag of sandwiches from the street vendors.  When we stay at the Meridien Hotel there's a man who sets up shop on the corner across from the hotel for about 1 dinar, that's like $1.50.  I usually send our driver to pick up several sandwiches, they are to die for!
So if you see a street vendor selling shawarma sandwiches grab one or two you won't be disappointed!