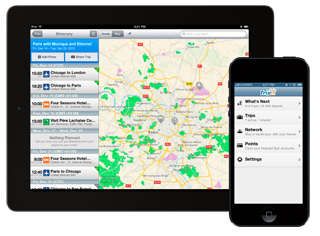 Traveling, specially during peak  season, is stressful.  You have to deal with crowded airports and busy roads no matter how you choose to travel.
One of the best ways to lower you stress level is to put your smartphone to work.  There are many free Travel Apps you can download on to your mobile devices to help you plan your trip, keep track of reservations, navigate airports and cities, plan your route, and more.
The only caveat is if you are traveling internationally you may be charged roaming fees for cell phone and data usage.  Check with your cell phone provider for international charges before you travel.
Here are some of the best free Travel Apps I use when I travel with and without kids.
1.  My favorite is Tripit.
You just forward confirmation emails from airlines, hotels, tours, etc. and it converts it chronologically into a trip itinerary.  You have all your important info in one place.
2.  Waze  is better than GPS.
It's the world's largest community based traffic and navigation app.  You get the best route every day from real-time drivers who are in your area when you are.
3.  GateGuru helps you navigate the airport.  Find gates, restaurants, bathrooms and more.
4.  My Disney Experience explore the Disney World Resort with this interactive GPS-enabled app.  Get wait times for attractions, character locations, showtimes, make dining reservations and more.
5.  The RoadNinja app will tell you where restaurants, gas stations, and other amenities are on the road ahead of you.
Great way to find your favorite chain restaurant where ever you may be.
6.  Red Cross First Aid app puts expert advice for the most common first aid emergencies.
It has videos and step-by-step advice for first aid.
It can tell you where to get help, how to prepare for severe weather, and more.
8.  GasBuddy helps you estimate the cost of gas you will use on your trip.
It also helps you locate the cheapest gas stations along your route.
9 If you and your clan are traveling to a big city and love food trucks or are on a tight budget TruxMap will help you find the best food trucks in a dozen big city destinations.
10.  HealthyOut helps you find healthy restaurants around the country.
Perfect for kids with food allergies and those of us who are watching our diets.
11.  Uber is a ride service app that lets you order a taxi or car service around the world.
They've recently added UberFAMILY that lets you add a child safety seat for $10 additional fee on top of the fare. [spacer height="-20px"]
12.  If  you have a Lounge Club membership this app will locate all the airport lounges that you can use around the world.
I use this every time I travel, I would never leave home with out it!
;