The big hotel chains seem to be building more and more lavish and luxurious hotels and resorts.  In order to compete smaller companies  and individual entrepreneurs have come up with unique hotel designs to attract adventurous tourists.  Many of these one of a kind hotels have found a way to combine their uniqueness with luxury and provides each guest a truly memorable experience.
Here are some hotels that will fire up your imagination.  You may be inspired to book a family vacation at one of them, the kids will love it!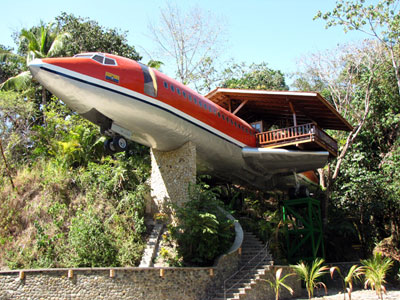 Hotel Costa Verde nestled in Costa Rica's Manuel Antonio National Park has this unique 727 Fuselage Home.
It's a 727 aircraft refurbished and re-purposed into a 2 bedroom luxury suite perched atop a platform in the park's rain forest.  The suite's 2 verandas have sweeping views of the rain forest and its inhabitants.  Nightly rates range from $250 in the off season  to $750 in peak seasons.[spacer height="-20px"]
Wigwam Motels have 3 remaining Wigwam Villages ( Cave City, Kentucky; Holbrook, Arizona; and Rialto, California.).
Built in 1949 these motels were originally built to accommodate travelers on the historic Route 66, today they a quirky side trip a bit off the beaten path.  The remodeled rooms are comfy but aren't 5 star luxury.  The properties have a green area and a small pool.
They still attract road trip enthusiasts, historians, and just about anyone looking to stay in a "cool" hotel.
Nightly rates range from $73 to $98.50.
Each railroad car is a guest room furnished is grand Nineteenth Century style.
Nightly rates start at $145.[spacer height="-20px"]
Free Spirit Spheres offers adults (16 and older) the experience of living in a tree house. 
The handcrafted spheres suspended from the trees  are set in the  west coast rainforest of Vancouver Island, Canada.  Nightly rates start at $160 for 1 person and $180 for 2.


The Faralda NDSM Crane Hotel is an actual industrial crane located in the heart of Amsterdam.  
The crane has been fitted with 3 luxurious suites and has a Spa Pool on top for guests to use.  Dare devils can bungee jump off the crane for a fee of 60 Euro per jump.  Nightly rate is 435 Euro for a suite.  
The structure is built up by stacking almost 70 little houses.  Along with comfy rooms and suites the hotel also has a pool, spa, and restaurant.  Nightly rates start at 120 Euro.[spacer height="-20px"]
Located on a coastal cliff in Jeongdongjin, South Korea Sun Cruise Resort & Yacht is the world's first on-land cruise themed resort.
The hotel which opened in 2002 is a specially designed cruise ship on land.  It boasts 211 rooms, pool, restaurants, lounges, and function rooms.
Nightly rates start at $106.[spacer height="-20px"]
Stay in the deepest suite on earth at the Sala Silvermine in Sala, Sweden.
Built in an underground mine 155 meters beneath the surface this cool suite will give you all the peace and solitude you require.
Nightly rates range from $100-$200.[spacer height="-20px"]
If you prefer underwater accommodations stay in one of the underwater suites at Atlantis the Palm in Dubai.  Each suite has floor to ceiling windows in the bedroom and bathroom where you can enjoy the underwater view of the resort's Ambassador Lagoon.
Nightly rate about $5,500[spacer height="-20px"]