Image by Carmina Ahmed
Halloween is around the corner and just about everyone is thinking ghost, goblins, and things that go bump in the night. Admit it or not most of us have thought about supernatural and paranormal things.  Many of us jump at the sound of creaking floors when we're alone late at night, I know I do!
Whether you're a true believer or a skeptic we all want to be just a bit "spooked" during the Halloween season.  We visit haunted houses, watch scary movies, dress up as our favorite ghoul, and in the back of our minds wonder if there really are haunted places.  So why not go on a ghost tour this year?
My family and I did the Birdcage Theater Ghost Tour in Tombstone, Arizona the other year.  I can't tell you that we actually saw any ghosts nor can I say that the experience made me a true believer; but I can say we had a great time and learned some of the local history as well.
It seems that there are ghost tours in just about all the states.  Here are some that have been touted as the "Best Ghost Tours in American" by Haunted America Tours and America's Best Online.  Maybe there's a tour by you, if not I'm sure you'll find a tour in your area by doing a internet search.
Ghost Tours of St. Augustine in Florida offers several types of ghost tours.
Their award winning "Ghostly Experience" with a guide is a nightly 75 minute tour.  To book your tickets on line click here!
[spacer height="-20px"]
Chicago Hauntings' guides have been featured on many TV shows including those on the History and Discovery Channels.
They offer several different tours including private ones.
To reserve your tour click here! [spacer height="-20px"]
"On this haunted ghost hunt, you will be given ghost hunting equipment…..you'll get to participate in an interactive paranormal investigation."  Haunted Vegas Ghost Tour and Hunt
Enough said, for tickets click here!
[spacer height="-20px"]
Haunted Heartland Tours operates in 4 states:  Ohio, W. Virginia, Tennessee, and Kentucky.
They were voted one of the top 10 ghost tours in the US.
Click here for more info![spacer height="-20px"]
Appalachian Ghost Walks offer walking ghost tours in Tennessee.
They also offer Bigfoot Tours.
To book a tour click here![spacer height="-20px"]
Go on this walking tour and learn about San Francisco's macabre history and the ghosts and hauntings in Haight-Ashbury.
For reservations click here![spacer height="-20px"]
Voted #1 in the Top Ten Ghost Tours of America, Haunted America Tours is a "haunted ghost tour like no other".
They offer several tours on Galveston Island, some of which are led by Dash Beardsly the company founder dubbed as "the ghost man of Galveston".. He's the local expert and has been featured in various magazines and TV shows.  For more info and booking click here![spacer height="-20px"]
French Quarter Phantoms in New Orleans offers several tours of one of the most haunted cities in the US.  Buy tickets here!
[spacer height="-20px"]
Ghost Tour of Philadelphia offers several tours including a Haunted Trolley tour.
For info and tickets click here!
A nightly walking tour in Key West that ends in the only "haunted Hard Rock Cafe in the world!
 Click here for info and tickets![spacer height="-20px"]
Featured on the History Channel the Charleston Ghost Tour is a Walking Tour in South Carolina.
Licensed tour guides recount tales of area hauntings.
Click here to book![spacer height="-20px"]
This ghost tour in Alton, Illinois has public and private walking and bus tours.
Most tours are 3 hours long and lets you experience the real haunted side of Alton.
Click here to reserve![spacer height="-20px"]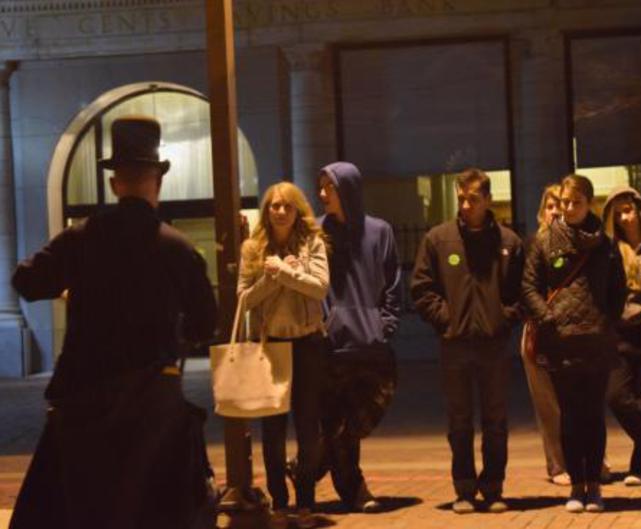 A list of ghost tours in the US wouldn't be complete without a tour in Salem.  Nothing screams Halloween more than the town of Salem, Massachusetts, home of the infamous witch trials in 1692 – 1693.
Halloween doesn't come once a year to this town, it's year round!  There are many museums and tours dedicated to Salem's "spooky" history.  Our family visited this town many years ago, it's a lot of fun!
Featured on the History Channel
Salem Night Tour
leaves on a nightly tour of Salem's famous places.